It goes without saying that 2020 has been a dumpster fire, and we still have a presidential election ahead of us. We've got a lot of correcting to do as a society, but we're at least ahead of where we were 60 and even 30 years ago in some ways. It's those ways and the people working to move us ever forward and closer together that I want to celebrate today.
Happy 30th Birthday Americans with Disabilities Act!
Thirty years ago, disabled Americans were acknowledged by our government in what the U.S. Department of Labor's Office of Disability Employment describes as a "landmark civil rights legislation that works to increase access and opportunity for people with disabilities across society, including in the workplace."
And October 2020 marks the 75th year of National Disability Employment Awareness Month (NDEAM).
This year, I'm delighted to also celebrate the launch of triple-amputee, Parkinson's advocate, and retired radiologist Linda K. Olson's memoir, Gone: A Memoir of Love, Body, and Taking Back My Life.
When Linda was just twenty-nine years old, both legs and her right arm were amputated after a car versus train accident.
Linda battled to regain her mobility and independence and went on to complete her medical residency and have a long career as a radiologist. Although retired, Linda continues to be active and encourages others with disabilities to "Get out and GO!" Her heart-warming and funny-bone tickling book chronicles her journey.
One of Parade Magazines 24 Best Memoirs to Read in 2020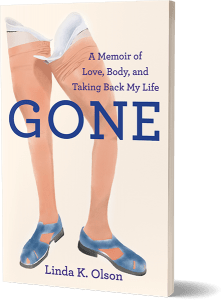 Gone was recently featured in Parade Magazine as one of "The 24 Best Memoirs to Read in 2020" and is a 2020 Shelf Unbound Top Notable Indie book (pp. 118) that has been described as:
"A heart-rending, heroic memoir of resilience and love, that reminds us all about how precious life is and how important it is to fight for it."
—Drs. Thomas Patterson and Steffanie Strathdee, co-authors of The Perfect Predator: A Scientist's Race to Save her Husband from a Deadly Superbug
"An unbelievable journey from hell, back to some degree of normal living. A must read for anybody recovering from traumatic injury."
—U.S. Senator Max Cleland (Ret.), Author of Strong at the Broken Places
"This is an incredible story of survival following an horrific accident. It is first and foremost the story of Linda's personal journey of courage and resiliency…You will read this with awe and wonder."
—Frederic G. Sanford M.D., Rear Admiral, Medical Corps U.S. Navy, Retired
More about the Book
You'll find more about the book and Linda and Dave's journey in these articles:
San Diego Union Tribune: "S.D. author's memoir starts with loss but sticks with love."
The Boston Globe "Linda K. Olson on moving forward after great Loss"
Read a sample of Gone at BooksByWomen.org.
Meet the Author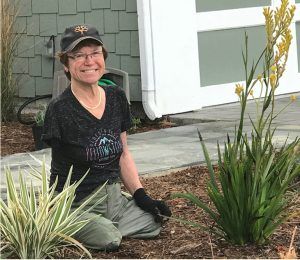 Linda is, in a word, delightful. It's been a privilege to get to know her and her husband, Dave, over the past few years as we worked to bring this book to readers. Anything I might say is likely to strike those who don't know Linda as effusive, so I'm going to let you decide for yourself.
Go check out her website at lindakolson.com. Let me know if you disagree with my assessment, and I'll hit the deck and do one, one-armed pushup (because unlike Linda, that's all I'm good for).
To learn more about Linda's personal and professional journey, check out her interviews on The Premise Podcast and the career podcast So Called Podcast.
A Saying for Times Like These
As I look to the future, I'm reminded of what Dave said to Linda the first time he saw her after the accident, "If you can do it, I can do it." These are two people who bring grace, love, and a sense of humor to challenging times!
This is book all of us can use right now, something real and empowering and a reminder of our humanity. It'll give you all the feels and couldn't come at a better time.
Book Launch and Author Events
Gone is coming October 2020 from She Writes Press. Stay tuned to Linda's website for more information, and look for her at these author events:
Beyond the Bookends
Reader's Lane
Author interview at Brookline Booksmith in Bostion
Brit + Co
Women on Fire
Warwicks author interview Oct 27 at 5 pm
Bulk Book Orders and Press Inquiries
For bulk and special book orders, contact She Writes Press.
For book publicity inquiries, please contact Keely Platte at BookSparks:  keely{at}sparkpointstudio.com or by phone at (510) 910-1667
Featured Image: Photo by marianne bos on Unsplash
Cristen Iris
CI Communication Strategies
2020